Australian Youth Band
The Australian Youth Band is Australia's premier youth marching/symphonic band. Our talented musicians range in age from 12 to 28 and come from all over Melbourne and Victoria. The band was formed in 1978 as the Moomba Youth Band to lead the 25th Anniversary Procession of Melbourne's annual Moomba Festival, and was later also known as the McDonald's Melbourne Youth Band. Since its inception, the band has journeyed to most states of Australia to perform its unique brand of colourful and dynamic music entertainment, played regularly at popular regional festivals, major sporting events, marching band festivals and corporate functions.
The band's performance highlights have included marching displays at AFL football finals, international cricket matches, NBL basketball, and Melbourne's Spring Racing Carnival. Other high profile performances have been at Brisbane's World Expo 88, the Sydney Opera House and Melbourne Concert Hall, the Melbourne 2006 Commonwealth Games, the FINA World Swimming Championships, the Davis Cup tennis quarter finals and before Queen Elizabeth II at the Moomba Festival.
The band has also represented Australia on the international stage:
1998 – World Marching Band Festival, Kanagawa, Japan
2005 – Beijing International Youth Festival, China, performed on the Great Wall of China
2007 – New Zealand Concert Tour
2008 – Victorian contingent in the 2,000 strong Beijing Olympic Orchestra, China
2010 – North America Concert Tour - San Francisco, Los Angeles, San Diego and the Calgary Stampede, Canada
2012 – Malaysia Concert Tour, and Georgetown Festival, Penang
2013 – Shanghai International Marching Band Festival, China
2016 – Hong Kong Concert Tour
2017 – Shanghai Tourism Festival, China
The extensive repertoire and performance flexibility make the Australian Youth Band an exciting inclusion in all major events, and we are honoured to be sharing our music with audiences in Austria, the Czech Republic, Germany and Hungary during the band's European Concert Tour in June/July 2020.
Participated: 2020
Country: AU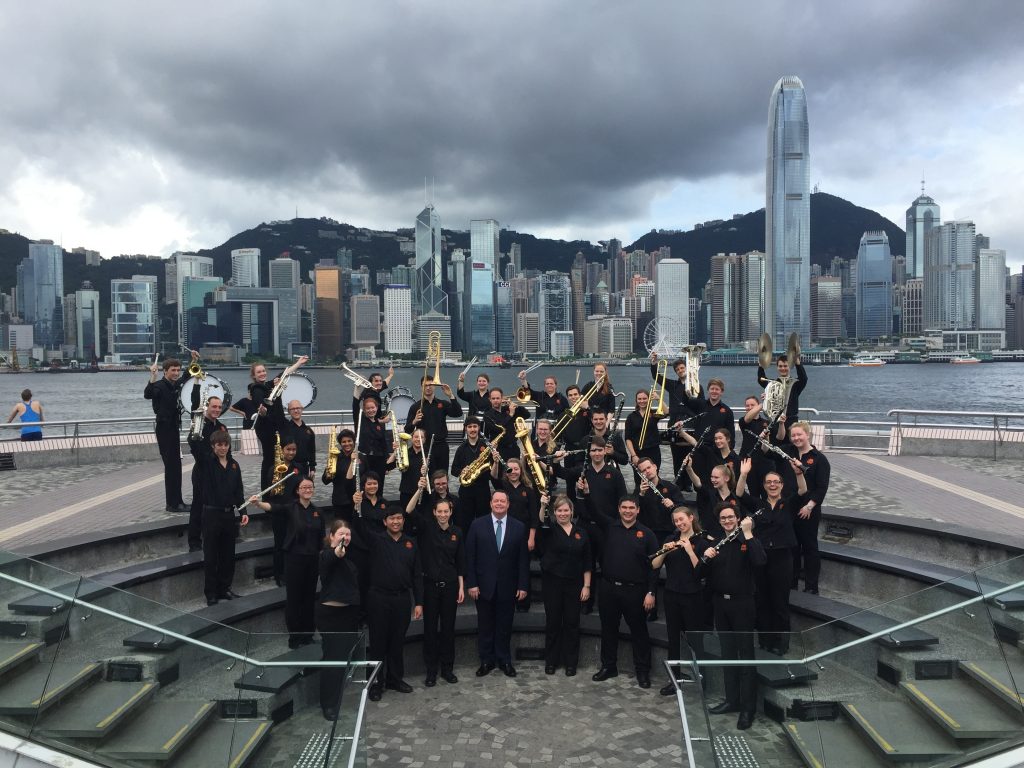 Conductor: Richard O'Toole
Richard was appointed as the Musical Director of the Australian Youth Band [AYB] in February 2005, with a clear vision for the band's future direction.
Richard wanted to lift the profile of the band both in Melbourne and throughout Australia, and also on the international stage. The increase of AYB's profile is most evident with regular invitations to participate in festivals and corporate events around Melbourne and Victoria, and invitations to attend major international festivals in China, Italy, the USA and the United Kingdom.
Richard has arranged successful tour itineraries for AYB to New Zealand, North America, Malaysia and Hong Kong, was very much involved in the band's 2013 and 2017 tours to Shanghai, China. The success of these tours is paramount to the future success of the band, and establishes AYB as a versatile performance ensemble that can be a highlight of any festival around the world.
Upon leaving school, Richard joined the Royal Australian Airforce as a performing member of the RAAF Central Band. Richard has also been involved with school and community music in Melbourne for over forty years. During this time he has been a choral tutor and conductor with the Australian and Victorian Children's Choirs, conductor of the City of Croydon Wind Symphony, Musical Director of the Victorian State Youth Concert Band and the founding Musical Director of the Melbourne Rainbow Band.
In his days off from AYB, Richard is the Instrumental Music Director at Yarra Hills Secondary College, where he teaches Clarinet, Saxophone, Voice and Piano, and directs the College ensembles. The College Senior Concert Band had very successful tours to New Zealand in 2010, 2014 and 2018, and is now preparing for a concert tour to Singapore in September, 2021.
Australian Youth Band concert(s)
Mid Europe 2020