Brass Band Frutigen
The Brass Band Frutigen (BBF) was founded in 1948 under the name Arbeitermusik Frutigen. The BBF got its current name in 1994 after the wind orchestra was converted into a classical brass band.
In contrast to a wind orchestra, which in addition to brass instruments also has woodwind instruments such as clarinets, flutes, saxophones, etc., a brass band is characterized by a pure brass instrumentation (based on the English model).

The BBF comprises a total of 28 musicians. All musicians are pure amateurs and the BBF is simply their hobby.
The Brass Band Frutigen has almost every branch of music in its repertoire. In addition to original brass literature, the BBF also likes to play traditional brass music, light music, film music, rock, pop, jazz, classical concert works from all eras, folk music from all countries and much more.
Successful Brass Band Frutigen
In recent years the BBF has regularly participated in competitions of regional, cantonal and federal music festivals in the second strength class brass band. The BBF has also participated in the Swiss Brass Band Competition in Montreux several times. In all competitions, the BBF was placed in the top third, sometimes also on the podium.
A highlight was the participation in Whit Friday in England in 2015. The BBF also had great placements in this oldest brass competition in history.
Brass Band Frutigen for eyes and ears
The Brass Band Frutigen is known not only to play concerts for the ear, but also to expand them with show elements. At the annual entertainment concerts, the members show their musical and their theatrical skills. The audience could already enjoy Gauls making music, fish, film actors, earthworms, Muppets dolls, criminals and so on.
At the Cantonal Berner entertainment music competitions in which the BBF took part, the BBF was able to win first prize twice with its show programs. The BBF also participated twice in the regional entertainment competition Brass Night and won the audience award.

Whether taking part in competitions, rehearsing music shows, concert lectures in the village ... above all, the focus is on the joy of joint music among the members. The BBF wants to pass this joy on to the public.
Participated: 2020, 2021
Country: CH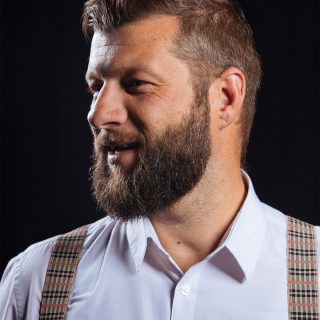 Conductor: Adrian Germann
Adrian Germann has worked successfully for many years as a conductor, experienced educator and imaginative improtheater player. He led the Brass Band Frutigen for over 12 years and won several awards in this field in light music and concert brass music. In addition to various show programs and an open-air theater from his own pen, he managed to motivate the band again and again. Last autumn he returned to the band after seven years to realize his latest musical projects with the band. He knows how to combine brass band and show with the band. The band and Adrian Germann are a conspiratorial team that optimally complements and looks forward to the future.
Brass Band Frutigen concert(s)
Mid Europe 2020