Rovereto Wind Orchestra
The Rovereto Wind Orchestra was founded in 1997 as the school band of the "Liceo Antonio Rosmini" in Rovereto under the guide of maestro Andrea Loss.
The group grew both in terms of the number of members and the level of musicianship, gradually involving players from the province of Trento and surrounding regions of Northern Italy. In 2015 the wind orchestra decided to change its name officially whilst remaining true to its origins in the city of Rovereto.
Over the past 20 years the Wind Orchestra has undertaken a significant number of collaborations and concerts, participating in various musical meetings, festivals, and competitions around Europe and under the baton of important guest conductors from all over the world, such as Henrie Adams, Douglas Bostock, José Rafael Pascual Vilaplana, Laszlo Marosi, Ronald Johnson, Roger Bobo, Bert Appermont and Miguel Etchegoncelay to name but a few.
Furthermore, on numerous occasions the orchestra has received awards at prestigious national and international music competitions, such as the Flicorno d'Oro in Riva del Garda, the Italian National Competition held in Bertiolo, Friuli Venezia Giulia, the Vallé d'Aoste International Competition, the Certamen Internacional de Bandas held in Valencia, Spain, and the World Music Contest in Kerkrade, Netherlands (2005, 2009, 2013, 2017).
In June 2016 the orchestra had the honour of performing the Italian premiere of the First Symphony by Swiss composer Franco Cesarini, op. 50 "The Archangels", at the Florence Opera House as part of the 79th Florentine May season of concerts. During July of the same year the orchestra performed for the second time at the "Mid Europe" International Festival in Schladming, Austria, having been invited to give the Closing Ceremony Concert.
In July 2017 the RWO participated in the World Music Contest in Kerkrade in the highest Concert Category gaining a gold medal in four consecutive editions of the competition. On that occasion the orchestra performed with soloist Alessandro Fossi, tuba teacher at the Conservatoires of Pesaro and Bolzano, with whom they also recorded a CD of Italian tuba concertos.
In November 2018 the RWO had the honour of accompanying Alfredo Persichilli, first cellist of the Orchestra del Teatro e della Filarmonica della Scala, and in April 2019 also performed the Italian premiere of the Second Symphony "Views of Edo" by Franco Cesarini in Sala Verdi, Milan Conservatoire. The RWO was honoured to be chosen to perform at the WASBE 2019 conference in Buñol, Spain, where we premiered two new pieces including one with renowned euphonium soloist Steven Mead as our guest artist.
The RWO welcomes players from different countries, not only Italy, and is keen to collaborate on cultural projects of all kinds.
Teilgenommen: 2020
Land: IT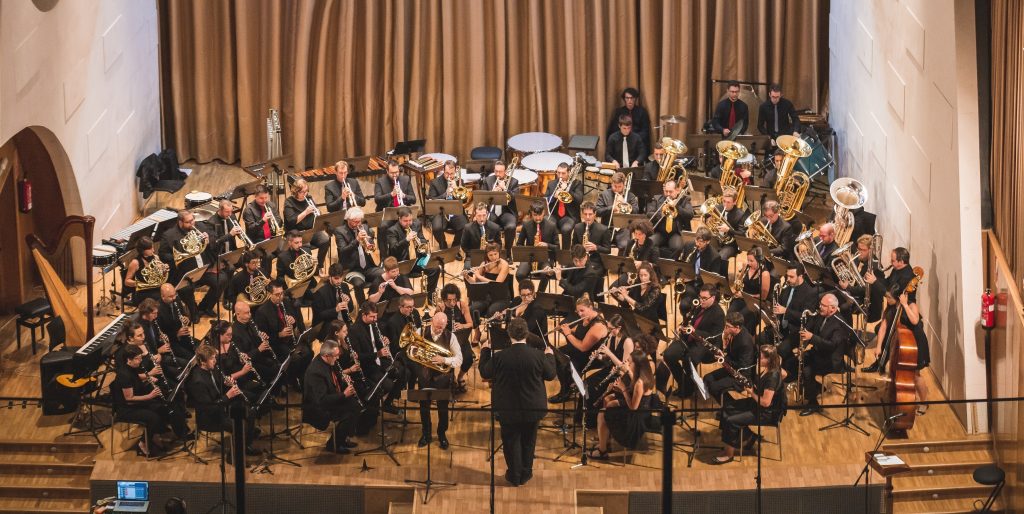 Dirigent: Andrea Loss
Andrea Loss (born in Rovereto, Italy, 1977) began studying clarinet at an early age in his native Trentino under the guide of Massimo Zenatti and Paolo Beltramini, completing his instrumental Diploma in 1998 at the "J. Tomadini" Conservatorio in Udine. After finishing classical high school studies he attended numerous clarinet and saxophone master classes both in Italy and abroad with Alessandro Carbonare and Gianni Basso amongst others.
He subsequently undertook specialized courses in orchestral and band conducting with Jan Cober, Maurizio Dini Ciacci, Hardy Mertens, Felix Hauswirth, Ronald Johnson, Jan Van der Roost, Jo Conjaerts and Douglas Bostock; courses in orchestration for band with Carlo Pirola, Franco Cesarini and Roberto Di Marino; harmony with Armando Franceschini, composition with Massimo Priori and singing lessons with Denia Mazzola Gavazzeni and Paoletta Marrocu.
In 1997 he founded the Rovereto Wind Orchestra - formerly known as Banda del Liceo "Antonio Rosmini" Rovereto - and has been its principal conductor ever since (prize winner at several competitions: the Flicorno d'Oro Junior; the Flicorno d'oro 2005; the World Music Contest di Kerkrade; Concorso Nazionale di Bertiolo; Certamen International de Bandas de Valencia; Concorso Internazionale della Valle d'Aosta; Concorso Ponchielli di Cremona, etc). http://www.rwo.tn.it/it/
For over 20 years Andrea has dedicated himself to raising the profile of wind music and educating musicians, whether amateur or professional. He has had the honour of conducting many quality wind orchestras either as a student or as a guest conductor both in Italy and abroad, for example, the Rundfunk Blasorchester Leipzig, (D), Filarmonica Leopolda delle Ferrovie dello Stato di Firenze (I), Circolo Musicale Parteollese (I), Orchestre d'Harmonie des Jeunes de l'Union Européenne (Lux), Civica Banda Musicale di Soncino (I), Northern Iowa Wind Symphony (USA), Filarmonica Mousiké di Gazzaniga (I), Nuova Banda di Castelfranco Veneto (I), ISEB Wind Ensemble (I), Banda Municipale de Pontevedra (E), Banda de Musica de Vilagarcia (E), Grande Banda Rappresentativa della Provincia di Trento (I), Orchestre d'Harmonie de Valdoie (F), l'Unión Musical de Coruxo (E), Banda Municipal di A Coruña (E), Festival Wind Orchestra of the Orkesterkamp in Bovec (SI), the Winter Orchestra Workshop of Byalistok (PL).
Time permitting, he enjoys taking classical singing lessons at Trento Conservatoire and improving his language skills.
In June 2019 he was honoured to be elected as a new member of the WASBE board.
Rovereto Wind Orchestra Konzert(e)
Mid Europe 2020