Student Wind Orchestra Auletes
Studentenharmonieorkest Auletes is a student wind orchestra that has been performing both classical and modern music for years at a high level. Auletes permanently consists of around 50 musicians, and for concerts welcomes a large number of guest players from earlier projects, former members, and conservatory students. The orchestra is closely connected with Eindhoven University of Technology (TU/e).
In recent years Auletes has given concerts with many top soloists. In the classical repertoire the orchestra has worked with Tania Kross (mezzo-soprano), Adelina Hasani (concertmaster Philharmonie Zuidnederland) and Lode Smeets (solo trombonist at Philharmonie Zuidnederland). In addition, in December 2015 Auletes gave a grandiose concert under the title "A Night With Rachmaninoff" together with master pianist Wibi Soerjadi in the Frits Philips Muziekgebouw in Eindhoven. Auletes also has experience in modern genres which resulted in several successful concerts in collaboration with, among others, Eefje de Visser, Wudstik, Wouter Hamel and Eric Vloeimans.
The orchestra is eager to take up big projects, which has led to concerts in the concert halls of Tilburg and Eindhoven, the Royal Concertgebouw and the Beurs van Berlage in Amsterdam. In addition, Auletes regularly plays world premieres of works by contemporary composers such as Jeff Hamburg and Marc van Delft.
Teilgenommen: 2019
Land: NL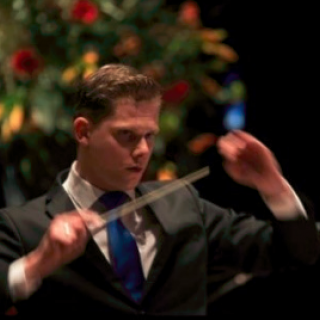 Dirigent: Paul van Gils
Conductor Paul van Gils was born on 1 November 1990 in Boxtel. He grew up in a family full of musicians: father Mari is a professional trumpeter, conductor, composer / arranger. Already during his secondary school Paul studied at the conservatory in Tilburg with a trumpet major under Raymond Vievermanns. In 2009, he started at the Conservatory of Amsterdam with main subjects trumpet under Theo Wolters and Hafabra management under Danny Oosterman. In 2014, Paul completed his bachelor exam, which was awarded the predicate 'very good'. Paul currently directs the following orchestras: Fanfare Eendracht Afferden, Harmonie Orchestra de Bazuin Oud-Beijerland and Studentenharmonieorkest Auletes Eindhoven.
Student Wind Orchestra Auletes Konzert(e)
Mid Europe 2021