Vlaams Jeugd Harmonie Orkest
About Us
The Vlaams JeugdHarmonie Orkest, or VJHO for short, is an orchestra that is composed of de best
youth musicians from local harmonies and orchestras. Our ambition is to allow young people to play
music together on a high level and transfer that experience to their original orchestra. We also try to
promote the music composed for harmonies in every way possible. To reach this amazing goal, we
organise our own concerts and participate in contests both at home and abroad.
Our History
In early 2014 there was talk about giving birth to a totally new and innovative ensemble composed
entirely of youth. The dream was to form an orchestra one of which there was not one in our entire
country. For a young musician to play in our orchestra, he or she already has to play in another existing
organisation, being a harmony, a fanfare, a brass band or something else. It would take another year for
the dream to become reality and at the end of February 2015 our first rehearsal took place. It
immediately was a winner and we've been practicing ever since.
Teilgenommen: 2018
Land: BE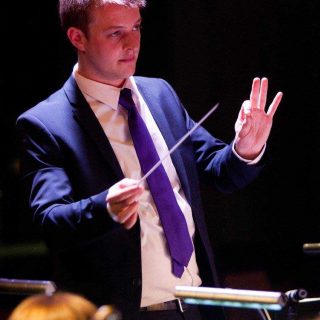 Dirigent: Koen Maes
Koen Maes (°1993) studied percussion at the Koninklijk Conservatorium Antwerpen with Carlo
Willems and Koen Wilmaers. In 2009 he became laureate in the superior division of the provincial
contest organised by Vlamo. In 2011 he won first price at the WMC in Kerkrade and first price in the
Dexia Classics. Koen took several master classes organised by Randy Max, Koen Plaetinckx and
Simone Rabella. He participated in the harmony of Schelle led by Dirk De Caluwé, in the Festival
Brassband, in the Europese Jeugd Brass Band and the Kempisch Jeugdfanfareorkest. As percussionist
he occasionally plays at the Nationaal Orkest van België. Koen was a teacher at the Stedelijk
Conservatorium of Mechelen and at the Stedelijke Academie Regio Tienen. Besides that, he finished
the education to become a hafabra conductor and is currently follow a Master in hafabra conducting.
He is conductor of the Vlaams Jeugdharmonie Orkest (VJHO) and the Jeugdharmonie of Bierbeek. In
February 2016 Koen won the price for the best conductor at the International Festival for Wind
Orchestras Prague 2016.
Galerie
Vlaams Jeugd Harmonie Orkest Konzert(e)
Mid Europe 2019