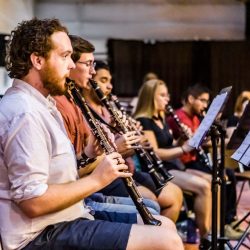 Apply for WYWOP if you:
are 16-30 years old
play a woodwind or brass instrument, percussion instrument, string bass, harp or piano
are interested in collaborations with internationally renowned soloists, conductors and composers
are interested in the performance of high quality literature
excited to meet musicians from all over the world
and of course want to make new friends
Click here to fill out the registration form.
Application Deadline: March 31, 2021
Acceptance/Waitlist Notification: April 7, 2021
Participation Fee Due: May 1, 2021
Payment Instructions will follow with acceptance notification. Please note at the time of your application that you will need to have your payment prepared for sending very soon after the deadline.
Current situation around Covid-19:
Due to Covid-19 the Mid EUROPE 2020 had to be postponed to 2021. The planning for Mid EUROPE 2021 is in full swing and we hope to present a successful Mid Europe 2021. Should there be any changes, we will keep you informed.
A cancellation would be done by the end of April 2021 at the latest.