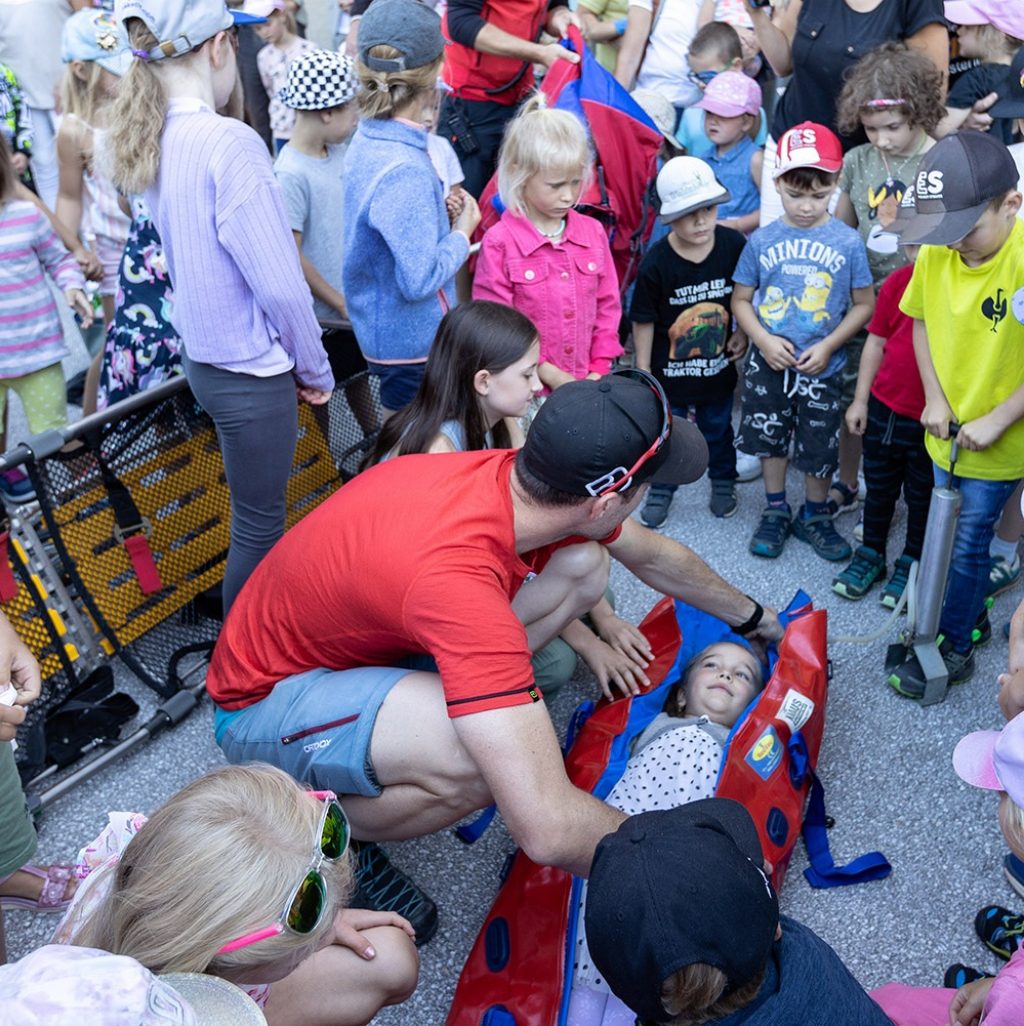 Kids in Concert – "Musical First Aid"
Wednesday, 15.02.2023
Who knows what number to dial in an emergency? How do you apply a bandage the right way? What's an oboe? All of these questions, and more, will be answered during this year's children's concert at Mid EUROPE. On Wednesday 12 July 2023, countless musicians as well as children will be milling around at congress Schladming – when it will be time again at Mid EUROPE 2023 for "Kids in Concert". This year's motto: "Musical First Aid"! Things get underway at 9:30 in the morning with the Schladming Chapter of the Austrian Red Cross. And then, from 10:30, the kids will be able to immerse themselves in the world of music, receiving musical first aid from two music educators, Katharina Eckerstorfer and Philip Haas, in collaboration with the World Youth Wind Orchestra.
Emergency-response organizations, music and kids – a recipe for success served up only here at Mid Europe. After all, where else do kids have the chance to switch on the siren of a police car or fire truck, rappel down a rope under professional supervision, and all in the same breath, experience an array of first-class musical treats!? At "Kids in Concert" in years past, lots of curious children's eyes gazed in awe at the police, firefighters and mountain rescue personnel who were in attendance. Which made our "Musical First Aid" on 12 July 2023 the only logical next step.
From 9:30 a.m., members of the Austrian Red Cross based here in Schladming will demonstrate to the children the fundamentals of first aid. The right way to help someone who is injured, how to apply bandages, and even something as basic as knowing the right number to call (just for the record: it's 144 😉) – the program includes all of this and a lot more. Needless to say, the youngsters will also get to peek inside rescue vehicles and, we presume, honk a horn every now and then.
Come 10:30 in the morning, it will then be the turn of music educators Philip Haas and Katharina Eckerstorfer, together with the World Youth Wind Orchestra led by Verena Mösenbichler-Bryant, to render some musical first aid. And since it is a children's concert after all, the kids will be encouraged to participate as well as listen. Philip Haas and Katharina Eckerstorfer have come up with a special musical program for the children and, assisted by the World Youth Wind Orchestra, will expose them to valuable insights into a world of beautiful sounds and the instruments that produce them. We can only imagine precisely how and where first aid will also play a role in this exciting program.
Philip Haas isn't only a trumpeter and voice of the renowned "Federspiel" brass ensemble, he is also constantly searching for creative ways to expose people to music. Numerous productions for our youngest and young-at-heat concertgoers led him from Mozarteum Orchester Salzburg to the Luxembourg Philharmonic and the Elbphilharmonie in Hamburg. At this year's Mid Europe in Schladming, the music educator will be standing on the stage for the third time – on this occasion accompanied by fellow music educator Katharina Eckerstorfer.
Katharina Eckerstorfer has been teaching for the Upper Austrian Provincial Music School since 2003. After pursuing her bachelor's studies in musical pedagogy and clarinet, she went on to complete her master's in clarinet with distinction at Anton Bruckner Private University Linz. She has given expression to her artistic talents in various orchestras and chamber music ensembles. In organizational and conceptual capacities as well as a music educator, she has led projects at Akzente Salzburg, L` Aura Ensemble, readings for children at the Zoom, the Mozarteum Foundation, the Hausruck Chamber Orchestra, Jeunesse Österreich, the Haydn Festival in Eisenstadt, the Wind Music Association, "Young Bruckner Days" in St. Florian, and at the Mid Europe Festival. Since 2015, she has also been in charge of Anton's Kids Club at Brucknerhaus Linz. Katharina Eckerstorfer lives with her husband and daughter in Gaspoltshofen, Upper Austria. "It has been a great joy and honor for me, as a long-standing member of the Mid Europe team, to work together with Philip Haas, developing the idea behind this year's children's concert and getting to share the stage with him", says Katharina Eckerstorfer.
News