Air Note Music School
Air Note music school established in 2013, located at the heart of the city Guangzhou. With an elegant environment, the Air Note music school offers a high quality instrumental education with teachers graduated from diverse Conservatory of China.
The Air Note music school cooperated with several important school in Guangzhou and in Provinz Guangdong to improve the level of the concert bands in southern China. And now the Air Note music school is one of the most famous music school in Guangzhou with the support of the Associated Board of China conservatory and Xinghai conservatory.
Participated: 2017
Country: CN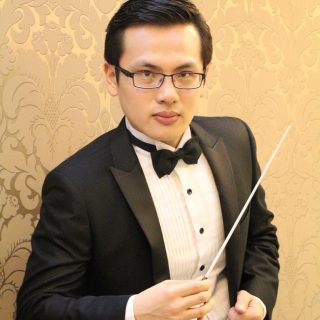 Conductor: Daoxing Huang
Daoxing Huang, graduated from Xinghai Conservatory, was co-principal trombone player of Guangdong Pearl River Symphony Orchestra. As a member of Asian Pacific Band Association, Guangdong Musicians Association, guest trombone chief of Guangdong Wind Band and Guangzhou Wind Orchestra as well as the musical director of Air Note music school, he earned leadership of the most famous school bands in Guangzhou, those included: Guangdong Overseas Chinese High School, Guangzhou Pui Ching primary school, Guangzhou Pui Ching middle school, Guangzhou Fangyuan experimental primary school. He is honoured as the "International Outstangding Instructor Award "by CHINA INTERNATIONAL CULTURAL ASSOCIATION and World Chinese-Overseas Union General Attestation; Guangdong outstanding musician in 2014; Excellent Conductor Award in 2013 the 4th Guangdong Music Contest(outstanding team performance"Daqian Cup" band Invitational); Excellent Teacher Award in 2014 the 6th Wind(Percussion) Solo(Ensemble) invitational in Southern China; Excellent Teacher Award in 2014 Asia International Art Exchange Competition; Excellent Chinese Art Teacher Award in 2015 the 11th Chinese Youth Art Festival of world.
Gallery
Air Note Music School concert(s)
Mid Europe 2021