Junior Opole Orchestra
Junior Opole Orchestra - is a band that was founded in 2021. The original intention of the activity was the initiative to prepare young instrumentalists to work in chamber ensembles and large orchestras. The work, dedication and willingness of young musicians to play with their peers allowed the Junior Opole Orchestra to grow into an independent concert orchestra (with such successes as a concert as part of the annual program in the Opole Philharmonic after almost 2 years of orchestral activity). Daily work of the orchestra takes place in 3 support groups (KIDS, JUNIOR, PRO). The idea of the band is to transfer the knowledge and skills of experienced young musicians (including students of instrumental faculties and graduates of the Higher School of Music in Opole) to beginner instrumentalists (in the junior group sit the student and the teacher to a score). Currently, the entire orchestra consists of about 50 musicians aged from 10 to 26 years.
The main purpose of the orchestra is education and development, so its structure is similar to the activities of a professional symphony orchestra. Important functions, besides the conductor, are: Board of the Orchestra, Deputy Conductor, Inspector, Concertmaster, Librarian, Technical Director and Section Leader.
Participated: 2023
Country: PL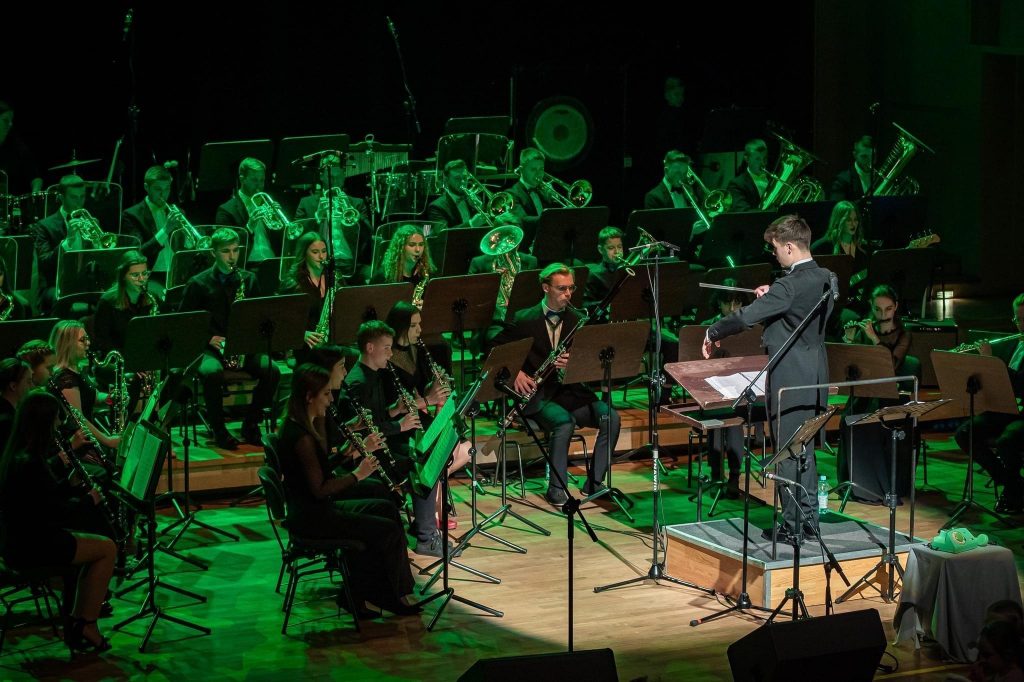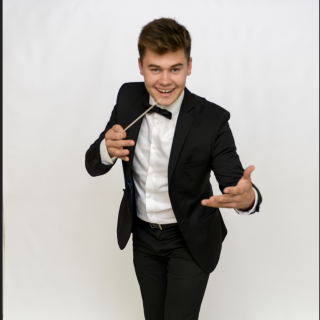 Conductor: Szymon Klimański
Simon Klimański (DE)
born 19.06.2000 trombonist, leader and founder of the quintet Silver Brass concertizing since 2016 throughout Poland and abroad. Co-founder of the trombone quartet "Luftbones" from Krakow. A daily conductor with the Junior Opole Orchestra (in 3 groups - children, youth and PRO), debut as a conductor on the professional stage in 2022. graduate of the Music School I and II degree F. Chopin in Opole in the class of Harald Powrósło, currently a student at the Music Academy Krzysztof Penderecki in Krakow in the class of Prof. dr hab. Zdzislaw Stolarczyk. Composer, arranger, author and producer of many artistic projects. As a soloist he gave concerts with the Opole Philharmonic Symphony Orchestra. As an orchestral musician he cooperates with the best Polish orchestras, conductors and many world famous musicians/soloists. Winner of many awards at the national level and internationally in the field of trombone playing, e.g. 1st place at the 1st International Music Competition "Silk Way" in Moscow (2021). He cooperates with the Opole Philharmonic Orchestra in the field of artistic education of children and youth. Producer of audio and video recordings, incl. the CD "Kolędy po Naszemu- Silver Brass" released in 2022. Activist for the cultural development of society - winner of the 5th edition of the Opole Marshals Civic Budget with two projects for cultural innovation: "Musical Journey through Europe" and "... In Opole!".
Gallery
Junior Opole Orchestra concert(s)
Mid Europe 2023
Friday, 14.07.2023
hall concert Ensemble/Orchestra: Junior Opole Orchestra, PL Location: congress Schladming
Concertprogram >
| Title | Solists | Composer | Publisher |
| --- | --- | --- | --- |
| Feuerwerkmusik | | Georg Friedrich Händel | Rundel |
| Jesus bleibet meine Freude | | Johann Sebastian Bach | Rundel |
| Hornkonzert Es-Dur | Lukasz Ogaza | Wolfgang Amadeus Mozart | Rundel |
| Hungarian Dance no 5 | | Johannes Brahms | Carl Fischer, New York |
| Per Bynt-Suite no 1 | | Edvard Grieg | Carl Fischer, New York |
| Italian Holiday | | Robert Longfield | Birch Island Music Press |
Saturday, 15.07.2023
church concert Ensemble/Orchestra: Junior Opole Orchestra, PL Location: Kirche Haus im Ennstal
Concertprogram >
| Title | Solists | Composer | Publisher |
| --- | --- | --- | --- |
| Canon in D | | J. Pachelbel | Silver Brass |
| 4 Jahreszeiten- Herbst | | A. Vivaldi | Canadian Brass |
| Schafe können sicher weiden | | J.S. Bach | Silver Brass |
| Suite for Brass Quintet | | Henry Purcell | Brassworks Music |
| Trummusik | | Vietoris | Silver Brass |
| Wassermusik Suite | | B. Holcombe Jr. | Brassworks Music |
| Xerxes | | G.F. Handel | Canadian Brass |
| Messiah Oratorium | | G.F. Handel | Canadian Brass |
| Trumpet Voluntary | | G.F. Handel | Canadian Brass |