Kiryat Motzkin Conservatory Youth Wing
The Kiryat Motzkin Conservatory was founded in 1960 with the support of the Kiryat Motzkin Municipality.
The orchestra is among the oldest in Israel and has trained hundreds of musicians over the years.
The repertoire of the orchestra includes works from the Baroque period to present day music. The orchestra also plays contemporary music and Israeli folk music.
These days about 30 musicians ages 14-18 are in the orchestra
In 2018, Mr. Salva Feigin was appointed Chief Conductor of the orchestra.
The orchestra participates every year in the central conferences of the Ministry of Education
And regularly appears in all the major events of the Kiryat Motzkin Municipality.
Participated: 2019
Country: IL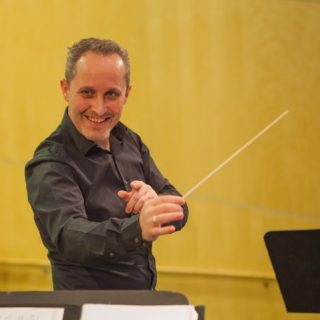 Conductor: Viacheslav (Slava) Feigin
Viacheslav (Slava) Feigin was born in 1972 in Belarus, the USSR and came to Israel in 1994. He graduated from The Gomel music collage in 1991 and was a musician in the USSR army from 1991 to 1993. He has been a music teacher from 1998 and a conductor since 2004 in Tirat HaCarmel conservatory, Maalot conservatory and Kiryat Ata conservatory in addition to Yuval Music Center. He is the conductor of Yuval Music Center's representative orchestra since 2012.
Among the pieces on which he Conducted: Festive Overture – Shostakovich, Light Calvary – Suppe, Suit No. 1 in Eb – Holst, Eline Leine Yiddishe Ragmuski – Gorb, Slavonic Dances – Dvorak, Overture from Italiana in Algeri – Rossini, Trumpet Concerto – Cogan, and Walts No. 2 – Shostakovich.
Since 2018 has also served as chief conductor of the Kiryat Motzkin Youth Orchestra.
Kiryat Motzkin Conservatory Youth Wing concert(s)
Mid Europe 2021