Musikverein 1964 Oberndorf
Who are we?
The Musikverein 1964 Oberndorf (short: MVO) is a wind band association with about 350 members, of which about 60 are active musicians in the main orchestra and about 20 girls and boys in the student orchestra. Originating from a small village band, we have now grown into a symphonic wind orchestra. As the full name suggests, we were founded in 1964 in Oberndorf in the restaurant "Stern" (which unfortunately no longer exists). Before that there were already some predecessor bands. However, these were mostly so-called "family bands" which often consisted of the members and friends of a certain family. At times there were even several of these small bands in Oberndorf at the same time.
What do we do?
We make brass music in many different styles, forms and orientations. The musical activities in the club year consist of different areas. The first musical highlight is our annual symphonic spring concert. Usually two weeks before Easter.
Further dates in the yearly calendar are entertainment appearances to different celebrations (with us with priority the Kirchweihfeste; here "Kier" called; on request also with further tent and celebration meetings), guest performances with friendly associations, musical company of the church year (e.g. with the Bitt and celebration processions, in addition, at Christmas), anniversary serenades with members and many further causes. Also the participation in different carnival processions belongs to it. In addition, we also dare some experiments, such as a joint open-air concert with a rock band ("Brass music will rock you").
Of course, the social aspects must not be neglected. Joint trips (e.g. to our partner club, the MV 1931 Langenau in the southern Black Forest) and hikes are part of it. Also the one or other barbecue party in summer. Our youth also occasionally undertake their own trips to a wide variety of destinations. Sometimes, however, a visit to the local pizzeria is enough for them.
Occasionally the trips are a little further afield and are primarily for musical purposes. Like for example the participation in the federal music festivals and the trip to the brass band competition "Flicorno d'Oro" to Riva del Garda. Then we have to take care of the new generation and the club youth. For the most part, we train them ourselves with our own expert musicians. But also our former, older, retired musicians as well as the honorary members do not miss out. They are invited once a year to a special evening.
Who makes music with us?
The nice thing about us is that we are a very colorful bunch and we get along wonderfully with each other. In the main orchestra young and old play together (the age range is from 15 to 75 years). From schoolchildren to academics, from craftsmen, employees, teachers and other civil servants to the self-employed and pensioners, everything is present. Among them are some who initially considered music to be just their hobby, but who have since gone on to receive specialized training at a music conservatory. The majority of the members come from Oberndorf. Some, however, come from neighboring communities and some even travel relatively far to make music with us.
We can proudly say that we have a great cohesion and a great atmosphere within the club. We also attach great importance to this.
Participated: 2023
Country: DE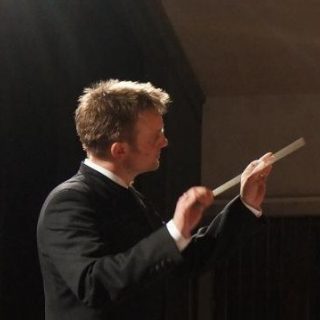 Conductor: Jens Weismantel
Jens Weismantel, wurde im Februar 1976 in Salmünster geboren und begann bereits im Alter von vier Jahren mit dem Klavierunterricht. Über den Posaunenunterricht führte sein Weg schnell in das Stammorchester des MV Oberndorf, dem er seit 1999 als Dirigent vorsteht. Die Ausbildung zum Blasorchesterdirigenten (C3) schloss er 1993 beim Hessischen Musikverband mit Auszeichnung ab. 2001 absolvierte er an der Bläserakademie Sachsen einen einjährigen Lehrgang, den er mit dem Prädikat "sehr gut" abschloss. Im Herbst 2008 legte er die 1. Staatsexamensprüfung in den Fächern Musik und Geographie für das gymnasiale Lehramt an der Hochschule für Musik und Darstellende Kunst in Frankfurt am Main ab. Seine Dozenten waren Prof. Andreas Weis (Orchesterleitung) und Prof. Wolfgang Schäfer (Chorleitung). Seine Dirigentenausbildung komplettierte er mit Dirigierkursen bei Walter Ratzek (Stabsmusikkorps der Bundeswehr, Landesblasorchester Baden-Württemberg), Thomas Doss (Wiener Kammerorchester, Philharmonisches Orchester Erfurt) und Jochen Wehner (RBO Leipzig). Er leitet das Landesjugendblasorchester Hessen und hat einen Lehrauftrag für Orchesterdirigat an der Hochschule für Musik und Darstellende Kunst in Frankfurt. Zusätzlich arbeitet er als Dozent des hessischen Musikverbandes für Dirigentenausbildung.
Musikverein 1964 Oberndorf concert(s)
Mid Europe 2023
Thursday, 13.07.2023
Friday, 14.07.2023
Saturday, 15.07.2023
hall concert Ensemble/Orchestra: Musikverein 1964 Oberndorf, DE Location: congress Schladming
Concertprogram >
| Title | Solists | Composer | Publisher |
| --- | --- | --- | --- |
| Spirit | Dirigent Dirk Mattes | Dirk Mattes | Dirk Mattes |
| Hymn and Halleluja | | Rolf Rudin | Rolf Rudin |
| And the rest is silence | | Thiemo Kraas | RUNDEL |
| Fantasy for Saxophone & Wind Orchestra | Stefan Bien | Peter Lehel | |
| Lignum | | Thiemo Kraas | RUNDEL |
| Lenas Song (Fly with me) | | Stefan Nilsson | RUNDEL |