Every year, the International Wind Music Festival Mid EUROPE has a first-class selection of local conductors who will conduct the orchestra projects WAWOP and WYWOP. Update on more conductors coming soon!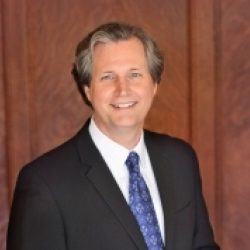 Phillip Riggs
Phillip Riggs can certainly be named as a "fixed component" of Mid EUROPE. Phillip is responsible for the World Adult Wind Orchestra Project as director and conductor. Phillip Riggs is Grammy Music Educator of the Year 2016 and teaches at the North Carolina School of Science and Mathematics in Durham (USA). He is a co-founder and conductor of the Wachovia Winds and the North Carolina Youth Wind Ensemble. Phillip was the first faculty member to be inducted into the Reagan High School Hall of Fame in 2016. He is an active juror, clinician and workshop leader in the United States, Europe and China.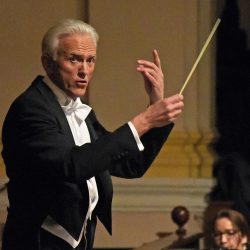 Johann Mösenbichler
Prof. Johann Mösenbichler joined the Executive Board of the MID EUROPE in 1997, and was appointed as the President of the "Mid Europe Festival" in Schladming in 2000.He is the artistic director of the festival and principal conductor of the Bavarian Police Orchestra as well as a professor at the Anton Bruckner Private University for Music in Linz. Johann Mösenbichler performs and conducts widely, teaches, and has served as a clinician and adjudicator at seminars, workshops and competitions in Asia, the USA, and throughout Europe. He has also been honored to conduct prestigious orchestras such as the Sinfonietta Da Camera in Salzburg.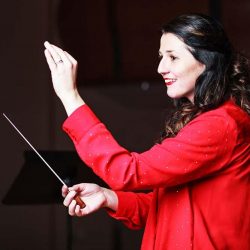 Verena Mösenbichler-Bryant
Verena Mösenbichler-Bryant serves as Executive Director of the World Youth Wind Orchestra Project and the World Adult Wind Orchestra Project of the annual Mid-Europe festival in Schladming. Together with her father, Verena is planning the new project Multi National Symphony Orchestra for 2020. Verena Mösenbichler-Bryant serves as Associate Professor of the Practice of Music at Duke University, Director of the Duke University Wind Symphony, Director of Undergraduate Studies for the music department and Artistic Director & conductor of the Durham Medical Orchestra. Verena serves frequently as cover conductor for the North Carolina Symphony, and as guest conductor and clinician across the United States, Japan, as well as in her native Austria.
Previous Conductors and Guests:
2023: Damon Talley ( Louisiana State University School of Music), Isabelle Ruf-Weber (Conductor from Switzerland), Jerry Junkin (University of Texas), Prof. Johann Mösenbichler, Dr. Verena Mösenbichler-Bryant, flutist Birgit Ramsl

2022: Kevin L. Sedatole (Michigan State University), Paulo Martins (Dirigent aus Portugal), Prof. Johann Mösenbichler, Dana Pradervand, Dr. Verena Mösenbichler-Bryant, Euphonium Solist Steven Mead

2019: Gary Hill, Jacob de Haan, Phillip Riggs, Johann Mösenbichler, Verena Mösenbichler-Bryant, Sebastian Schraml, and Steven Bryant
2018: Miguel Etchegoncelay, Frank Ticheli, Phillip Riggs, Johann Mösenbichler, Verena Mösenbichler-Bryant, Sebastian Schraml, and Steven Bryant
2017: Jerry Junkin, Kevin Sedatole, Phillip Riggs, Johann Mösenbichler, Verena Mösenbichler-Bryant, Eric Whitacre, Jonathan Newman, Steven Bryant, Sebastian Schraml, Michael Markowski, and John Mackey