The WAWOP is designed for musicians over 30 years (no upper limit). Band leaders, music teachers, members of music bands and music lovers who wish to play with well-known conductors and composers at the highest level are invited to apply.
Current situation around Covid-19:
Due to Covid-19, Mid EUROPE 2020 had to be postponed to 2021. The planning for Mid EUROPE 2021 is in full swing and we hope to be able to hold the music festival in full swing. If there are any changes we will keep you informed
A cancellation would be done by the end of April 2021 at the latest.
WAWOP SCHEDULE OVERVIEW
July 11, 2021 – check in at the hotel by 5pm. First meeting at 5:15pm followed by dinner and sectionals.
July 12 – July 15, 2021 – daily rehearsals, sectionals, and sight-seeing opportunities
July 15, 2021 – outdoor performance as part of the LANGE NACHT – "LONG NIGHT"
July 16, 2021 – more rehearsals and sight-seeing
July 17, 2021– dress rehearsal and performance as part of the Mid Europe festival in the congress Schladming
July 18, 2021 – departure and checking out after breakfast
The rehearsal language is English.
Typical Day at WAWOP
Schedule does vary on performance nights and for special Mid-Europe events
| | | |
| --- | --- | --- |
| 7:00am-9:00am | Breakfast at your hotel | |
| 9:00am-12:00pm | Rehearsal | Royer or Congress |
| 12:15pm | Group Lunch | Sporthotel Royer |
| 1:30pm-4:00pm | Free time or group activity | Hikes, excursions, etc. |
| 4:00pm-6:00pm | Sectionals or free time | Various locations, see Mid Europe day time performances |
| 6:00pm | Group Dinner | Royer Sporthotel |
| 7:30pm-9:30pm | Rehearsal | Royer or Congress |
| 9:30pm-? | Free time | Pub, Mid-Europe performances |
Steven Mead - Euphonium soloist at Mid EUROPE 2021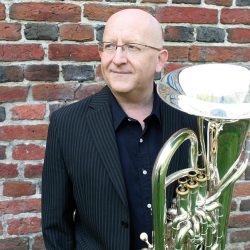 The successful and professional euphonium soloist Steven Mead would have already been present at Mid EUROPE 2020. After the cancellation of Mid EUROPE 2020, Mid EUROPE 2021 with Steven Mead certainly has a great highlight to offer. This first-class musician will perform with the World Adult and World Youth Wind Orchestra at the LONG NIGHT on 15 July as well as during the International Concert Evening on Saturday, 17 July.

Steven Mead is well known to brass musicians and euphonium lovers around the globe, admired above all for his expressive interpretations of the musical repertoire. His concerts are distinguished by the unique communication he establishes between performer and audience. Steven Mead may fairly be described as one of the most recorded solo wind musicians worldwide, with over 65 CDs released since 1990. His extraordinary pioneering work with the euphonium has brought him international fame as a leading euphonium soloist. His innovative contributions include the founding of special euphonium schools in the Benelux countries and Japan, organization of the "National Tuba Euphonium Festival" as well as mouthpiece and instrument design.