Every year, the International Wind Music Festival Mid EUROPE has a first-class selection of local conductors who not only conduct the master class "Conducting", but above all the orchestra projects WYWOP and WAWOP.
Present at Mid EUROPE 2024: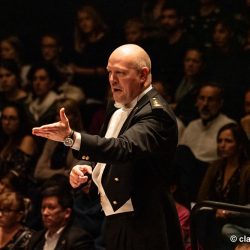 Jean-Claude Braun
Lieutenant-Colonel Jean-Claude Braun comes from a family of musicians, his father was a clarinettist in the Grand Ducal Military Band of Luxembourg and his mother was the assistant director of the Conservatory of Esch-sur-Alzette (L). At the age of 17 he was already solo horn player in the Grand Ducal Military Band and at 22 he completed his studies at the "Conservatoire Royal de Bruxelles" with a "Diplôme supérieur". In addition to his career as a horn player in national and international orchestras, he took over the direction of the horn class at the conservatory of Esch-sur-Alzette (L) as a lecturer in 1997.
In 2004 he was accepted into the renowned conducting class for symphony orchestras of the well-known conductor and professor Jan Stulen at the University of Music in Maastricht (NL). After successfully completing his Bachelor's degree in 2007, he moved to the "Lemmensinstitut" in Leuven (B) in the class of Professor Edmond Saveniers, where he was awarded a Master's degree in 2009.
Since 1 August 2012, Lieutenant-Colonel Jean-Claude Braun has been Chief Conductor of the Grand Ducal Military Orchestra of Luxembourg. Together with the 60-strong professional orchestra, he performs around 50 concerts a year. In addition to a whole series of CD recordings for Hal Leonard, Amstel Music, Baton Music and Bronsheim, he has also worked with world-famous musicians such as: Peng Peng Gong (piano), Prof Jo Alessi, Prof Armin Rosin and Prof Jacques Mauger, Tommy Verschoore (trombone), Glenn van Looy and Philippe Schwartz (euphonium), Prof Eric Aubier and Prof Marc Geujon (trumpet). Marc Geujon (trumpet), Johan de Meij, Ferrer Ferran, Marco Pütz, Peter Kleine Schaars, Otto M. Schwarz, Vladimir Cosma, Mario Bürki, Bert Appermont (composer and conductor), the conductors Norbert Nozy and Toni Scholl and many others.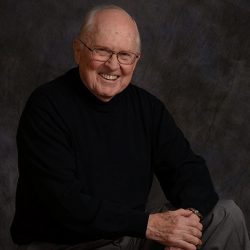 H. Robert Reynolds
H. Robert Reynolds has proven his talent as a conductor in the world's most renowned concert halls - for composers such as Leslie Bassett, William Bolcom, Aaron Copland, John Corigliano and many others, Robert Reynolds interprets their compositions to perfection.
Robert Reynolds is known by many as Director of University Bands, Chairman of the Conducting Department, Director of the Instrumental Studies, and Arthur Thurnau Professor of Music at the University of Michigan, where he worked until 2001. Following his Michigan tenure, he became the Principal Wind Ensemble Conductor and Professor of Wind Conducting at the University of Southern California for nearly 20 years. In addition to these responsibilities, he was, for nearly 40 years, the conductor of the Detroit Chamber Winds and Strings, which is made up primarily of members from the Detroit Symphony.
In 2019, Robert Reynolds was inducted into the American Classical Music Hall of Fame, and in 2010 he was awarded an Honorary Doctorate from Duquesne University. In addition, he holds degrees in Performance and Music Education from the University of Michigan where he was the conducting student of Elizabeth Green. He received the Citation of Merit from the Music Alumni Association of the University of Michigan for his contributions to the many students he has influenced during his career and the Lifetime Achievement Award from the Michigan Band Alumni Association. He is also an Honorary Life Member of the Southern California School Band & Orchestra Association. This is just a small selection of his awards, reflecting the excellent work of Robert Reynolds.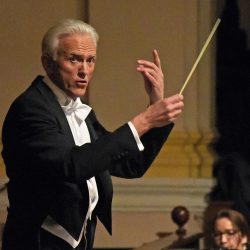 Johann Mösenbichler
Prof. Johann Mösenbichler joined the Executive Board of the MID EUROPE in 1997, and was appointed as the President of the "Mid Europe Festival" in Schladming in 2000.He is the artistic director of the festival and principal conductor of the Bavarian Police Orchestra as well as a professor at the Anton Bruckner Private University for Music in Linz. Johann Mösenbichler performs and conducts widely, teaches, and has served as a clinician and adjudicator at seminars, workshops and competitions in Asia, the USA, and throughout Europe. He has also been honored to conduct prestigious orchestras such as the Sinfonietta Da Camera in Salzburg.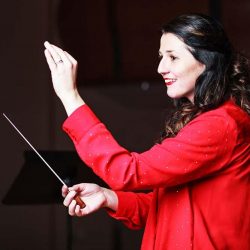 Verena Mösenbichler-Bryant
Verena Mösenbichler-Bryant serves as Executive Director of the World Youth Wind Orchestra Project and the World Adult Wind Orchestra Project of the annual Mid-Europe festival in Schladming. Together with her father, Verena is planning the new project Multi National Symphony Orchestra for 2020. Verena Mösenbichler-Bryant serves as Associate Professor of the Practice of Music at Duke University, Director of the Duke University Wind Symphony, Director of Undergraduate Studies for the music department and Artistic Director & conductor of the Durham Medical Orchestra. Verena serves frequently as cover conductor for the North Carolina Symphony, and as guest conductor and clinician across the United States, Japan, as well as in her native Austria.
Previous Conductors and Guests
2023: Damon Talley ( Louisiana State University School of Music), Isabelle Ruf-Weber (Conductor from Switzerland), Jerry Junkin (University of Texas), Prof. Johann Mösenbichler, Dr. Verena Mösenbichler-Bryant,
Soloist: flutist of Vienna Volksoper Birgit Ramsl

Section Coaches: Oliver Hummel, Jenifer Kechulius, Ryan Kelly, Dennis Llinas, Marc Sosnowchik, Heribert Prinz, Dan Tembras, Serena Weren, Kristin Ward

2022: Kevin L. Sedatole (Michigan State University), Paulo Martins (Dirigent aus Portugal), Prof. Johann Mösenbichler, Dana Pradervand, Dr. Verena Mösenbichler-Bryant,
Soloist: Euphonium Soloist Steven Mead
Section Coaches: Katharina Eckerstorfer, Oliver Hummel, Jenifer Kechulius, Ryan Kelly, Dennis Llinas, Marc Sosnowchik, Heribert Prinz, Dan Tembras, Serena Weren
2019: Gary Hill (Arizona State University), Jacob de Haan (composer/conductor from the Netherlands), Prof. Johann Mösenbichler, Dr. Verena Mösenbichler-Bryant
Section Coaches: Katharina Eckerstorfer, Richard Frey, Lisa McKim-Hill, Dennis Llinas, Oliver Hummel, Marc Sosnowchik, Ryan Kelly, Heribert Prinz, Serena Weren
2018: Miguel Etchegoncelay, Frank Ticheli, Johann Mösenbichler, Verena Mösenbichler-Bryant, Michael Markowski and Steven Bryant
Soloist: Maria Planer
Section Coaches: Matthew Dockendorf, Katharina Eckerstorfer, Richard Frey, Josh Gall, Donna Hryniewicki, Oliver Hummel, Marc Sosnowchik, Ryan Kelly, Heribert Prinz, Serena Weren,
2017: Jerry Junkin, Kevin Sedatole, Phillip Riggs, Johann Mösenbichler, Verena Mösenbichler-Bryant, Eric Whitacre, Jonathan Newman, Steven Bryant, Sebastian Schraml, Michael Markowski, and John Mackey
Soloists: Hila Plitmann, soprano (Grammy Award winner), Dirk Hirthe, tuba
Section Coaches: Ryan Kelly, Benjamin Lorenzo, Heribert Prinz, Carlos Rodriguez Rodriguez, Matthew Sedatole, Marc Sosnowchik, William Staub
2016: Henrie Adams, Douglas Henderson, Benjamin Lorenzo, Daniel Tembras, Verena Mösenbichler-Bryant
Section Coaches: Douglas Henderson, Benjamin Lorenzo, Michael Markowski, Heribert Prinz, Katharina Eckerstorfer, Carlos Rodriguez, Daniel Tembras