As a participant in the World Youth Wind Orchestra Project you will come to Schladming for a whole week from Saturday, July 10 to Sunday, July 18, 2021.
Apply for WYWOP if you:
are 16-30 years old
play a woodwind or brass instrument, percussion instrument, string bass, harp or piano
are interested in collaborations with internationally renowned soloists, conductors and composers
are interested in the performance of high quality literature
excited to meet musicians from all over the world
and of course want to make new friends
The WYWOP is truly like a family, with an annual reunion in Schladming.
Details:
Arrival in Schladming and check-in at the accommodation on Saturday, 10 July 2021 until 15:30
Departure from Schladming on Sunday, July 18, 2021 after breakfast
Concerts on Wednesday, July 14, 2021 and Saturday, July 17, 2020 at the Mid Europe Festival
the travel expenses are to be paid by the WYWOP participants themselves
Concert clothes: Bring your traditional concert uniform from your band or country. If you do not have a special uniform, the ladies wear concert black and the men smoking/black suits.
Participation fee (2 options possible):
1. overnight stay from 10 to 18 July with breakfast and dinner - drinks not included: € 350,00
2. overnight stay from 10 to 18 July with breakfast, lunch and dinner - drinks not included: € 395,00
Prices include Mid Europe registration, a WYWOP T-shirt or polo shirt and a link to download the recorded performances (mp3/no Cd's).
Application Deadline: March 31, 2021
Acceptance/Waitlist Notification: April 7, 2021
Participation Fee Due: May 1, 2021 Payment Instructions will follow with acceptance notification. Please note at the time of your application that you will need to have your payment prepared for sending very soon after the deadline.
Current situation around Covid-19:
Due to Covid-19 the Mid EUROPE 2020 had to be postponed to 2021. The planning for Mid EUROPE 2021 is in full swing and we hope to present a successful Mid Europe 2021. Should there be any changes, we will keep you informed.
A cancellation would be done by the end of April 2021 at the latest.
Steven Mead - Euphonium soloist at Mid EUROPE 2021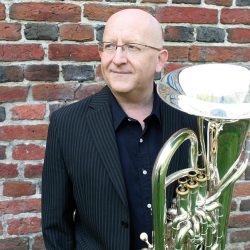 The successful and professional euphonium soloist Steven Mead would have already been present at Mid EUROPE 2020. After the cancellation of Mid EUROPE 2020, Mid EUROPE 2021 with Steven Mead certainly has a great highlight to offer. This first-class musician will perform with the World Adult and World Youth Wind Orchestra at the LONG NIGHT on 15 July as well as during the International Concert Evening on Saturday, 17 July.
Steven Mead is well known to brass musicians and euphonium lovers around the globe, admired above all for his expressive interpretations of the musical repertoire. His concerts are distinguished by the unique communication he establishes between performer and audience. Steven Mead may fairly be described as one of the most recorded solo wind musicians worldwide, with over 65 CDs released since 1990. His extraordinary pioneering work with the euphonium has brought him international fame as a leading euphonium soloist. His innovative contributions include the founding of special euphonium schools in the Benelux countries and Japan, organization of the "National Tuba Euphonium Festival" as well as mouthpiece and instrument design.