Verena Mösenbichler-Bryant
Executive Director WAWOP & WYWOP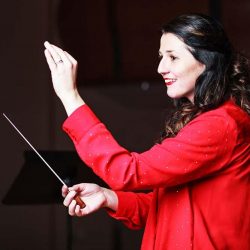 Verena Mösenbichler-Bryant serves as Associate Professor of the Practice of Music at Duke University, Director of the Duke University Wind Symphony, Director of Undergraduate Studies for the music department, and Artistic Director & conductor of the Durham Medical Orchestra.
Verena grew up in Eberschwang, Austria. She began piano lessons at the age of 6, continuing later with church organ, flute, and bassoon.
Her conducting debut at age 16 was followed by a three-year fundamental conducting course taught by Johann Mösenbichler. Verena Mösenbichler-Bryant then studied symphony orchestra conducting with Ingo Ingensand at the Anton Bruckner Private University in Linz, Upper Austria, and received her bachelor's degree, with distinction, in 2005. She completed her Master of Music in 2007 with Kevin Sedatole at Michigan State University. Verena graduated in May 2009 with her DMA in Wind Ensemble Conducting from The University of Texas at Austin where her principal conducting teacher was Jerry Junkin.
Professional engagements have included three years as the conductor of the Hofkirchen community band, conducting the youth band of Eberschwang, conductor of the UNCSA Wind Ensemble and she currently serves as Executive Director of the World Youth Wind Orchestra Project, and the World Adult Wind Orchestra Project of the annual Mid-Europe festival in Schladming, Austria (www.mideurope.at).
Verena Mösenbichler-Bryant's transcription of John Corigliano's Grammy-winning work, Mr. Tambourine Man, for Wind Ensemble and Amplified Soprano, published by G. Schirmer, has received strong praise from the composer, and has received numerous performances since its 2009 premiere. She has also published an article in GIA's respected Teaching Music Through Performance in Band series. Verena serves frequently as cover conductor for the North Carolina Symphony, and as guest conductor and clinician across the United States, Japan, as well as in her native Austria.
Jenifer Kechulius
WYWOP Manager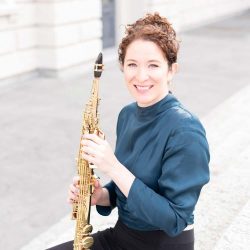 Jenifer Kechulius is currently based in Zurich, Switzerland where she teaches Music Together classes in the greater Zurich area, as well as private and group music lessons. She also performs with the Harmonie Wollishofen musikverein and the Wollyhood Saxophone Quartet.
Jenie received a Bachelor of Music in saxophone performance from Indiana-Purdue of Fort Wayne, Indiana in 2008. She then spent several years teaching privately, teaching at her alma mater, IPFW (now the Purdue Fort Wayne School of Music), working as a freelance musician, and working as a sales associate and private instructor at Mynett Music Company.
While pursuing Masters of Music degrees in saxophone performance and music history at the University of South Carolina she also taught private lessons, university music appreciation and music entrepreneurship courses, directed their New Horizons Bands, and worked as an administrative assistant in the School of Music main office.
After graduate school Ms. Kechulius first took the position of Managing Director at the Champaign School of Music, a private music academy in central Illinois. She then accepted the position of Executive Manager of Sinfonia da Camera, a chamber orchestra under the direction of Ian Hobson. Because of her great love of teaching, Ms. Kechulius ran a private studio of saxophone, clarinet, flute, and music theory students in Champaign-Urbana, in addition to her full-time job.
While briefly based in Norwich, England Jenie continued her work at Sinfonia da Camera, working remotely as the Director of Marketing and Design before ultimately moving to Zurich, Switzerland. She first learned of the World Youth and Adult Wind Orchestra Projects while living in England, and she then attended WAWOP as a tenor saxophonist in July 2018. She is delighted to now be a part of WYWOP!
Sarah Banker
Administrative Assistant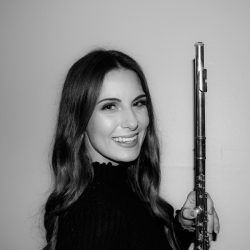 Sarah Banker received a Bachelor's in Music Education and Master's of Music from Louisiana State University. She has studied flute performance under Dr. Katherine Kemler and has taken regular private lessons with Suzanne Buerkle, Ji Weon Ryu, and Rachel Ciraldo. Sarah holds a productive schedule between teaching private lessons, directing the beginning band at St. Jean Vianney Catholic School, and performing as a regular substitute with the Louisiana Philharmonic Orchestra and the Baton Rouge Symphony Orchestra.