Dublin Concert Band
Dublin Concert Band is an acclaimed ensemble of over 50 talented musicians. Our ethos is all about making excellent music in an environment of respect, friendship, and fun. We are a truly intergenerational group with musicians aged 18-80 coming together to rehearse and perform in around 20 concerts annually.
Founded in 1958 and based in Dublin's city centre, we enjoy close ties with our community and play an important role in Dublin's cultural life. Dublin City Council engages the Band to perform in Dublin's parks each summer, keeping thousands of Dubliners and Visitors entertained in the city's beautiful green spaces. In 2018 we celebrated our 60th Anniversary with a sold-out Concert at the National Concert Hall, Dublin, and in October 2019 the national broadcaster RTÉ lyric fm invited us to give an hour-long studio performance broadcast live to an audience of 35,000 listeners on the station's Weekend Drive show.
The Band has won the Irish National Band Championships on more than 40 occasions, and has represented Ireland at international festivals in Denmark, Italy, Germany, France and the Netherlands.
We enjoy performing a wide range of music, from virtuosic contemporary classical works, right through to big band, swing, funk, musical theatre and film music.
In January 2019 Dublin Concert Band began an exciting new era with the appointment of our new Musical Director Brendan Breslin. We are looking forward to many years of making more excellent music and lifelong friendships - at home and abroad.
Participated: 2022
Country: IE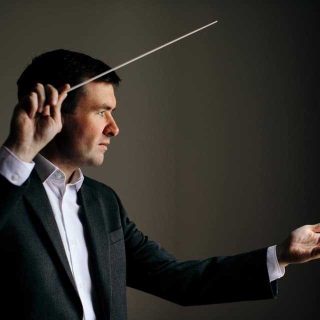 Conductor: Brendan Breslin
Appointed as Musical Director of Dublin Concert Band in January 2019, Brendan Breslin is one of Ireland's most in-demand musicians. In 2016 he won the prestigious National Association of Brass Band Conductors competition in the UK, and as a composer and arranger his music has been performed and recorded by ensembles including the RTÉ Concert Orchestra, the Cory Brass Band and the Irish Defence Forces Bands. Brendan performed with the Band of An Garda Síochána (Ireland's police force) for over 14 years, and in 2018 he was appointed as the head learning and outreach at the Royal Irish Academy of Music.
Brendan Breslin is currently the Musical Director with the Dublin Concert Band, the Irish Film and Pops Orchestra, and Artistic Director of the Irish Youth Brass Ensemble. Having completed a two year Master of Music course with the Royal Irish Academy of Music in Dublin, Ireland, Brendan attained a Pass with Distinction specialising in Conducting and Composition. He has also been integrally involved in the setting up and oversight of the RIAM Wind Festivals, regional development music workshops and masterclasses for community and school musicians of various levels, and continues to expand these events on behalf of the RIAM.
In June 2016 Brendan won the prestigious National Association of Brass Band Conductors competition in the UK, which has afforded him the opportunity to work with some of the main Championship brass bands including the Fodens Band, Whitburn Brass Band, the Reg Vardy Brass Band and Carlton Main Frickley Brass Band. In July 2016 Brendan was invited to take part in the Guildhall School of Music Opera Program in Fontainbleau, France, working on and developing new repertoire for opera. Later in the summer of 2016 Brendan's music featured in the Dublin Fringe Festival, in the theatre production of To Hell in a Handbag. In February 2017 Brendan was awarded the 2nd place prize winner of the Ensemble de Cuivres Valaisan Composition Contest for his original work Cruise Control, as well as the audience award from the premiere performance of the three winning entries. Brendan's work was amongst 45 entries in the competition hosted by the Swiss Open Championship Winning Brass Band.
Dublin Concert Band concert(s)
Mid Europe 2022