Jong HarmonieOrkest Schelle
Jong HarmonieOrkest of Schelle is a part of Koninklijk HarmonieOrkest of Schelle. Until September 2019 there was Instaporkest, an orchestra that has been around for 35 years. Since September we splitted this group into Jong HarmonieOrkest and Instap HarmonieOrkest. InstapHarmonieOrkest is intended for beginning musicians. JongHarmonieOrkest for musicians with more experience.
Jong HarmonieOrkest is a group of young musicians with ambition. Together with our conductor Koen Maes we try to show the best version of ourselves. We rehearse 2 hours a week and we have our own concerts. In addition to make music, we also like to have fun. This orchestra is a group of true friends. Once a year we go on Muziekweek. A camp of 1 week where we play games and play music.
Participated: 2022
Country: BE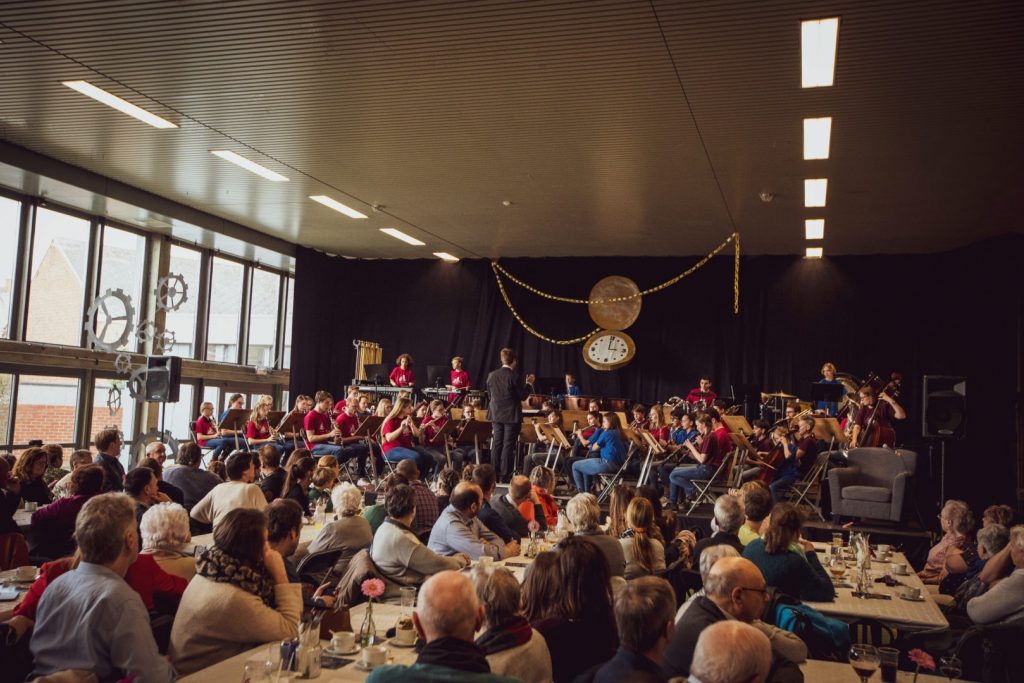 Conductor: Koen Maes
Koen Maes studied percussion at the Royal Conservatory with Carlo Willems and Koen Wilmaers. In 2009 he became laureate in the superior department of the provincial Vlamo-competition for soloists and small ensembles. In 2011 he won the first prize at the World Music Competition (WMC) in Kerkrade and he won the first prize in the Dexia Classics.
Koen Maes followed many different masterclasses percussion with Randy Max, Koen Plaetinckx and Simone Rabella. He gained experience with brass bands, concert bands and symphonic orchestras, including the Koninklijk HarmonieOrkest Schelle, Festival Brassband, Europese Jeugdbrassband and Kempisch Jeugdfanfareorkest. Koen Maes plays on a regular basis percussion at the National Orchestra of Beglium. He was a teacher at the Municipal Conservatory of Mechelen and the Municipal Academy region Tienen. He is the conductor of the Vlaams Jeugdharmonie Orkest (VJHO), Jong HarmonieOrkest Schelle and Concertband of Antwerp. In februari 2016 he won the prize for best conductor from the International Festival for Wind Orchestras Prague.
Jong HarmonieOrkest Schelle concert(s)
Mid Europe 2022
Wednesday, 13.07.2022
Thursday, 14.07.2022
Saturday, 16.07.2022
hall concert Ensemble/Orchestra: Jong HarmonieOrkest Schelle, BE Location: congress Schladming
Concertprogram >
| Title | Solists | Composer | Publisher |
| --- | --- | --- | --- |
| Whispers from beyond | | Rossano Galante | G. Schirmer |
| Music from Braveheart | | James Horner | Hal Leonard |
| Pastorale | | Jan de Haan | De Haske Publications |
| Rikudim | | Jan Van Der Roost | De Haske Publications |
| Rapunzel | | Bert Appermont | Beriato Music |
| Hope | | Stijn Aertgeerts | BVT Music |