Koninlijke Harmonie `Ons Verlangen` Beverst
90 musicians together form a unique combination of harmony orchestra, percussion group and bagpipe group! 'Ons Verlangen' plays concerts as well as at parades and tattoos.
Participated: 2022
Country: BE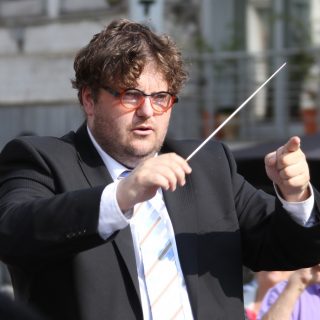 Conductor: Roel Aerts
Since 2019 'Ons Verlangen' is under the professional management of Roel Aerts. Roel lives with his wife and daughters in Diest. At the age of six he started his musical career as a percussionist with the K.F. Sint-Hubertus from Schaffen, began to study flugelhorn at the age of 8 at the conservatory in Diest and switched at the age of 14 to his great love, the bass tuba.
After secondary school, the path to a life as a professional musician began and Roel started the tuba and pedagogy course at the Lemmens Institute in Leuven. After selection tests, he ended up as principal tuba with the Flanders Symphony Orchestra under the direction of Robert Groslot. On his advice, Roel completed his tuba studies at the Antwerp Conservatory with Hendrik-Jan Renes (principal tuba with the Rotterdam Philharmonic Orchestra).
A few years later, Roel had an accident that prevented him from playing the tuba for two years. He entered education first as a teacher, then as a coordinating director, and now works as a pedagogical supervisor for music education and media at the Catholic Education in Flanders.
Roel is therefore a motivated person who tries to get the best out of everyone. Collaboration and motivation are two strengths that he fully exploits in his positions as pedagogical supervisor and conductor.
In 2013, Roel decided to specialize even further in music and began studying Instrumental Music Direction in Genk with renowned conductor and composer Kevin Houben. In 2016, he graduated with highest honors. As a conductor, Roel already gained a lot of experience in various wind orchestras of the first and higher divisions. It is therefore clear that Roel Aerts is a musical centipede. Now he plays bass tuba again and as a freelance tuba player you can find him at various competitions. Besides 'Ons Verlangen' he is currently also conductor of the Nut en Vermaak Fanfare in Pelt and the Sint-Maurus Harmonie in Holsbeek.
Conductor: Jeroen Bellings
Jeroen Bellings comes from Haren (Borgloon, B) and made his first musical steps with the Royal Music Society 'De Ware Vrienden' Bommershoven, where he took over the drum band at a young age.
In 2002 he was hired as a drum teacher with 'Ons Verlangen' and from 2003 as a conductor for the street performances. Besides drums, he is also passionate about singing. He performs regularly with the operetta company 'Casino' from Tongeren (B).
Professionally he is an architect, also councilor for culture and youth in Borgloon and chairman of FEN-Vlaanderen, the umbrella organization of carnival clubs.
Gallery
Koninlijke Harmonie `Ons Verlangen` Beverst concert(s)
Mid Europe 2022
Wednesday, 13.07.2022
hall concert Ensemble/Orchestra: Koninlijke Harmonie `Ons Verlangen` Beverst, BE Location: congress Schladming
Concertprogram >
| Title | Solists | Composer | Publisher |
| --- | --- | --- | --- |
| U-boat Training | | Hannes De Maeyer | |
| Persis | | James L. Hosay | Curnow Music Press |
| The Magic Mountain | | Otto M. Schwarz | Mitropa Music |
| Caledonia | | Dougie MacLean | |
| Mars van het Logistiek Centrum No.1 | | Eddy Geeraerts | |
| Choreography | | Robert Sheldon | Alfred Publishing |
| Cry of the Last Unicorn | | Rossano Galante | Associated Music Press |
| The Sky's the Limit | | Michael McDermott | |
| Amazing Grace | | traditional | |
Thursday, 14.07.2022