National Jeug Fanfare Orkest
Since its foundation in 1959, the NJFO (Nationaal Jeugd Fanfare Orkest) has stood for fanfare music at a high level. Talented young people between the ages of 12 and 25 - amateurs and music students - contribute to the development of fanfare music which is typical and unique for the Netherlands.
The NJFO gave a variety of concerts, among others in summer 2013 in Limburg and North Brabant as part of the WMC program, where Jan van der Roost's work "From Ancient Times" was played. As a participant of the WASBE conference 2014 in Hungary (Debrecen) the orchestra convinced with "Vita Aeterna" Variations, a work by Alexander Comitas. This work was also the guideline for the 200th anniversary of the composer Adolph Sax in autumn 2014.
In 2016 the WASBE conference took place in Prague where the NJFO was allowed to appear in the sold-out Smetana Hall with works such as "Wand of Youth" by Edward Elgar and the premiere of "Concertino for Tuba and Fanfare Band" with the soloist Perry Hoogendijk.
It can rightly be said that the NJFO has pioneered talent development and program development in recent decades. Under the direction of Piebe Bakker, who conducted the orchestra for more than 25 years, young musicians from all over the country developed into adult musicians who either made music their profession or wanted to pursue it as ambitious amateurs.

Piebe Bakker encouraged composers to compose more for fanfare orchestras; this includes the characteristic sound that is produced by several flugelhorns in combination with saxophones, symphonic winds and drums.
In 1989 Danny Oosterman took the place on the conductor's desk of the NJFO. He continues the tradition of Piebe Bakker and offers young, talented musicians the opportunity to develop in the orchestra after successful auditions.
Pierre Volders (solo trombonist of the Rotterdam Philharmonic Orchestra), Herman Rieken (drummer of the Koninklijk Concertgebouworkest), Ties Mellema (soloist, saxophone lecturer ArtEZ Conservatorium) and Esther Doornink (drummer Radio Filharmonisch Orkest) are just a few examples of successful musicians and those with the natural Danny Oosterman's ambitious way of working.
Danny Oosterman is known for being a staunch supporter of renewing the repertoire for fanfare orchestras. His tireless work in this field led to well-known composers such as Hans de Jong, Ed de Boer, Merlijn Twaalfhoven and Rob Goorhuis to compose and continue to compose new works for fanfare orchestras. The NJFO has released a number of CDs that contain both modern repertoire and simpler compositions.
Participated: 2018
Country: NL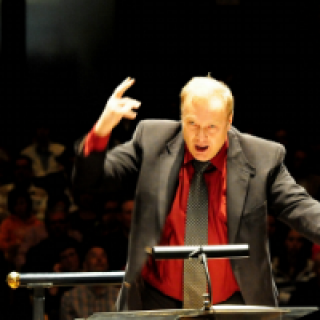 Conductor: Danny Oosterman
Since 1989 Danny Oosterman has been the artistic director of the Netherlands Youth Fanfare Orchestra (NJFO).
In addition to the NJFO, Danny Oosterman has been leading various orchestras since 1975, always succeeding in leading them to musical highlights
Since 1992, Danny has been associated with the Amsterdam Conservatory of Music as a senior lecturer for HaFa conducting. Danny is also a sought-after jury member for HaFaBra competitions as well as a sought-after guest conductor.
In 2006 he received the Piebe Bakker Award and in December 2014, the national BUMA Brass Award. These awards were given to him for his tireless efforts to promote the phenomenon of fanfare orchestras, his pioneering work in the field of repertoire expansion, as well as for his support of young talent.
Gallery
National Jeug Fanfare Orkest concert(s)
Mid Europe 2021