Royal Fanfare De Vriendenkring Kessenich
The Royal Fanfare Orchestra 'De Vriendenkring' was founded in 1882 at the Belgian village of Kessenich. In the past 140 years, 'De Vriendenkring' has participated in more than 30 contests. In 2022 they managed to win the 3rd division of the Fanfare section at de World Music Contest (WMC) in Kerkrade (NL) with a score of 95%. A few years earlier, they were rewarded with 89% at the ONFK, the Dutch Open Fanfare Championships.
Despite a proud heritage of 140 years, 'De Vriendenkring' always keeps an eye to the future, encouraging young musicians to develop their skills. The orchestra wants to remain a contemporary music ensemble, while striving to deliver high quality music performances to its listeners. At the same time 'De Vriendenkring' is committed to the community of Kessenich, participating in local folkloristic and religious events.
Current conductor, Toon Rutten (34 years), has started his musical career as a young musician in 'De Vriendenkring'. After playing with the orchestra for 15 years, he took the baton as their 15th conductor. Furthermore, Toon is a Tubaplayer in the Royal Military band of the Belgian Guides.
Participated: 2023
Country: BE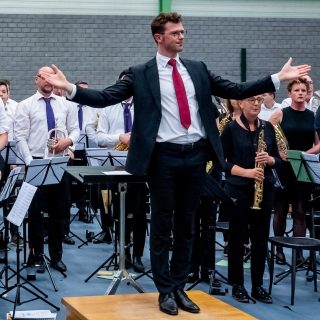 Conductor: Toon Rutten
Toon Rutten (°1988) started his musical journey with solfège lessons at the age of 9. A year later, piano was added, for which he continued to take lessons until he was 22. From the age of eleven, Toon combined piano lessons with learning a wind instrument. First baritone, but after a year it became bas-tuba, for which the love grew over the years.
After obtaining a master degree in French and German language/literature, Toon continued his studies with masters in tuba (2015) and conductor (2019).
In 2013, Toon managed to achieve a much coveted spot as a tuba player at the renowned Royal Music Chapel of the Guides, where he passed the exam for 1st soloist bas-tuba in 2020.
As a tuba player, Toon is currently still connected to the absolute top of Belgian amateur wind music with the orchestras: Fanfare Kempenbloei Achel and Brass Band Willebroek.
Over the years of study and work, Toon has broadened his knowledge and experience as a conductor by following master classes in Switzerland, the Czech Republic, England, the Netherlands and Belgium.
Toon is currently conductor of Royal Fanfare De Vriendenkring (Kessenich) and second conductor of the Royal Harmony of Thorn (NL).
Royal Fanfare De Vriendenkring Kessenich concert(s)
Mid Europe 2023
Thursday, 13.07.2023
Saturday, 15.07.2023
hall concert Ensemble/Orchestra: Royal Fanfare De Vriendenkring Kessenich, BE Location: congress Schladming
Concertprogram >
| Title | Solists | Composer | Publisher |
| --- | --- | --- | --- |
| Vitae Aeternum | | Paul Lovatt-Cooper | |
| Between the two Rivers | | Philip Sparke | |
| Broken Vow | Mezzo Soprano soloist Veerle Henkens | Lara Fabian | |
| Ouverture Il barbiere di Siviglia | | G. Rossini | |
| Never Enough | Mezzo Soprano Soloist Veerle Henkens | from The Greatest Showman | |
| Terby Show | | F. Wantier | |