Militärmusik Oberösterreich
The military band of Upper Austria – has become an important part of Mid EUROPE – be that as part of the "Conducting" workshop, where the band serves as the practice orchestra, or with its ceremonial performance on Thursday to mark the opening of the Long Night. The absolute highlight however: their appearances at the Schladming TATTOO on Friday, with marching formations that are certain to excite spectators.
In 1957, two years after Austria regained its freedom, a new military band was born. One painstaking small step at a time, they gradually created a military band that would soon win over the hearts of people throughout Upper Austria. Not only does it serve as a musical ambassador for the Austrian Armed Forces, it also lives up to its reputation as one of the biggest music schools in the province.
During its more than 60 years of existence, over 2000 musicians have completed their national military service as part of Militärmusik Oberösterreich. Some of them succeeded in making the leap to the Vienna Philharmonic as well as other Austrian and European professional orchestras. Hundreds of former military musicians are and were teachers and directors of music schools as well as band leaders, drum majors and functionaries with local music societies.
Furthermore, the band is a welcome guest internationally. Numerous radio and CD productions reflect but a small part of the repertoire of this outstanding musical ensemble.
Participated: 2014, 2015, 2017, 2018, 2019, 2022, 2023
Country: AT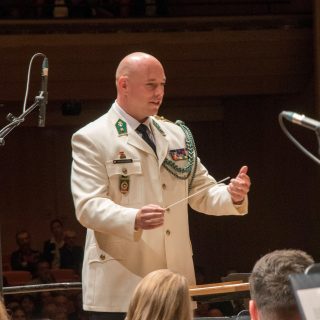 Conductor: Gernot Martin Haidegger
Gallery
Militärmusik Oberösterreich concert(s)
Mid Europe 2023
Wednesday, 12.07.2023
Thursday, 13.07.2023
Friday, 14.07.2023