Taipei Zhong-Zheng Junior High School 22nd Wind Band
About 60 members of the concert band have been chosen from the School's 900 students in the seventh grade. There are two bands in the school. Most of students have never touched the wind instruments before they get in the band, So new band players will accepted band fundamental training include sectional instrument class and band rehearsal in the first year. After that, many concerts and performance activities are waiting for them. Saturday morning is band rehearsal time included two hours section class and two hours whole band rehearsal. Most of players use their own instruments except the large instrument and percussion instrument players using school instruments. All of the band activities are supported by school, instructors and parents of the members paid lots of efforts to support the band activities.
Supported from School Principal Yu, Guo-Jen and parents of the members, carefully tuned instruction from teachers, willingness of the members to learn without spare efforts, organization and coordination by the school, and actively participation into various contests, all the above are quite essential for the band's success. Our belief is that by providing junior-high school students with sound music skills help them to love and enjoy playing organs for their life.
Participated: 2012, 2013, 2014, 2015, 2016, 2017, 2018, 2019, 2020
Country: TW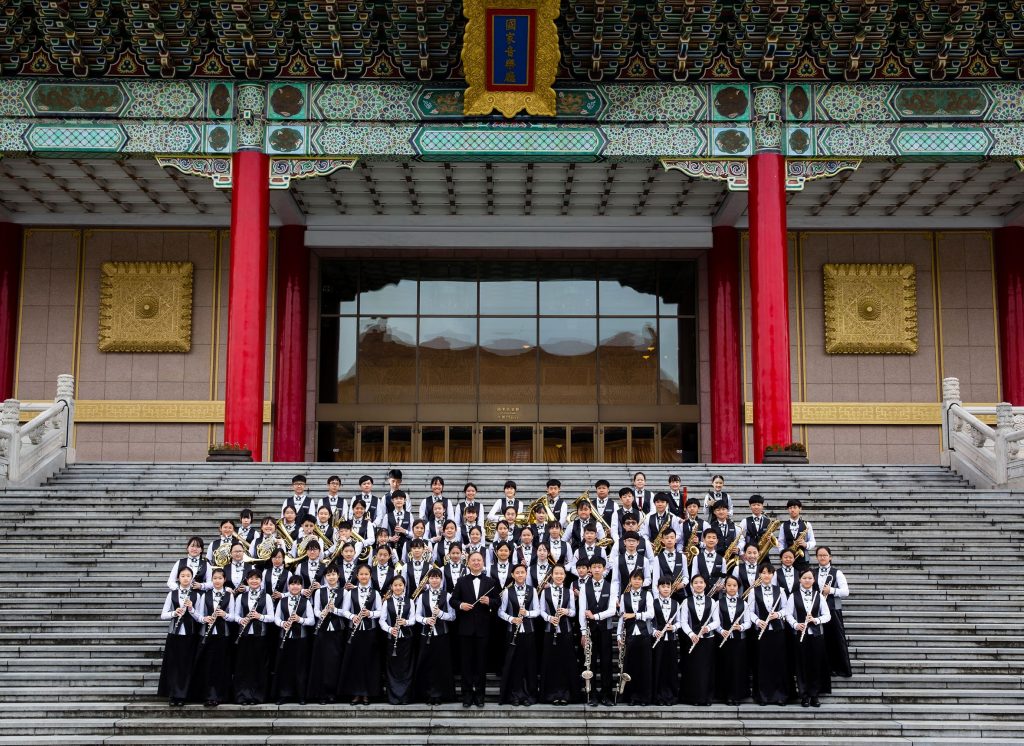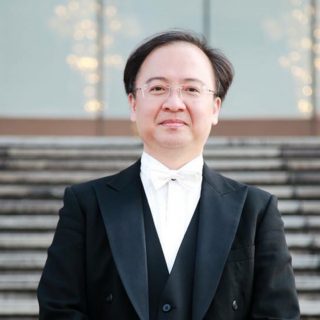 Conductor: Gi-Hwa Tzou
Tzou, Gi-Hwa was born in Taichung, Taiwan (1969), and received his Bachelor degree of music from Chinese Culture University in 1993 as well as the Master degree in Music from Florida International University in 1998. When Gi-Hwa was undergraduate student, he studied trumpet performance with Prof. Yeh Shu-Han for four years. Afterward, the years of study at FIU, He had studied trumpet performance with Grammy Award Winner Arturo Sandoval, the trumpet player of Florida Philharmonic Orchestra, James Hacker, and studied wind conducting with Mr. Matthew McInturf.
In 1998 Gi-Hwa began his professional music career as a trumpet instructor of pluralism in Taiwan National HsinChu University of Education. In 2000, He was the first secretary general in Taiwan Band Association and has being a Director of Taipei County Teacher Symphonic Band. In 2006 Gi-Hwa accepted invitation to be a conductor with Taipei Civic Symphonic Band. Since 2001He has also being a commissioner in Taiwan Band Association who is devoted to the development of band in Taiwan. All of school bands which he conducted have earned many awards in Taiwan Band Competition and TBA Band Contest in recent years. He has performed as a conductor in several states, USA, Austria, Korea, Singapore, Hong Kong, Macau, Malaysia and the People's Republic of China
Gallery
Taipei Zhong-Zheng Junior High School 22nd Wind Band concert(s)
Mid Europe 2020
Wednesday, 10.07.2019
church concert Orchestra: Taipei Zhong-Zheng Junior High School 22nd Wind Band, TW Location: Kirche Haus im Ennstal
Concertprogram >
| Title | Solists | Composer | Publisher |
| --- | --- | --- | --- |
| Southern Breeze March | | Chih-Cheng Hou | Corno International Co |
| Hymn to the Sun-with the Beat of Mother Earth | | Satoshi Yagisawa | Wind Art |
| Jesu, Joy of Man's Desiring | | J. S. Bach | Alfred Music |
| Flight Adventure in the Sky | | Benjamin Yeo | Beriato Music |
| Amazing Grace | | Frank Tichelli | Manhattan Beach Music |
| The Prayer | | David Foster & Carole Bayer Sager | EMR |
| Selections from the Greatest Showman | | Paul Murtha | Hal Leonard |
| Samba Express | | Toshio Mahima | Brain Music |
| TT (Twice) | | Black Eyed Pilsoung | Music 8 |
Thursday, 11.07.2019
hall concert Orchestra: Taipei Zhong-Zheng Junior High School 22nd Wind Band, TW Location: congress Schladming
Concertprogram >
| Title | Solists | Composer | Publisher |
| --- | --- | --- | --- |
| Southern Breeze March | | Chih-Cheng Hou | Corno International Co |
| Hymn to the Sun-with the Beat of Mother Earth | | Satoshi Yagisawa | Wind Art |
| Danse Diabolique | | Joseph Hellmesberger | de haske |
| Flight Adventure in the Sky | | Benjamin Yeo | Beriato Music |
| The Prayer | | David Foster & Carole Bayer Sager | EMR |
| Selections from the Greatest Showman | | arr. Paul Murtha | Hal Leonard |
| Samba Express | | Toshio Mahima | Brain Music |
| TT (Twice) | | Black Eyed Pilsoung | Music 8 |